1. The New Issue of Al-Mukhatabat Philosophy Journal
On the beginning August 2012, the third issue of the new electronic philosophy journal 'Al-Mukhatabat' has appeared. The journal is An Electronic Quarterly Trilingual (English-Arabic-French) Philosophical Journal For Logic, Epistemology and Analytical Philosophy, founded by Professor Hamdi Mlika. The topic of the issue is 'Models and Modeling'.
2. Samir Abuzaid's "Science and the Arabic Worldview" wins 'the Most Important Arabic Book' Prize, 2010, awarded by 'the Arabic Thought Foundation'.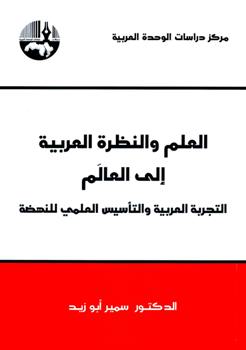 The Egyptian researcher Samir Abuzaid won 'the most important Arabic book prize' for his book 'Science and the Arabic Worldview' published by center for Arabic unity, 2009, which is a new prize awarded by the Arabic thought foundation for the first time this year, its value is 75 thousand USD. On Nov. 29th, the board of consultants of the foundation, headed by Prince Khaled Al-Faisal, has convened and came to the decision to award the prize for the researcher Samir Abuzaid out of the six candidates of the short list which was chosen out of 108 works that has been proposed from authors from different Arabic states. Abuzaid deals in his book with the problem of founding scientific thought in the contemporary Arabic societies depending on deducing the conditions of such a process from the European experience during the ages of reform and renaissance, and on the basis of the separation/connection methodology implemented by Al-Sheikh Abdoulqaher Aljurjani.
3. The Algerian/French Thinker Muhammed Arkoun Passes Away
On Tuesday night 14th of September 2010 the Algerian/French thinker Muhammed Arkoun passed away on 82 years after a long agony with disease. Arkoun has a PhD in lterature, he taught at several universities in Europe, the United States and Morocco. He is well known by his studies and analysis of Islamic thought. He was severely criticized by the traditional Islamic thought.
4. The Egyptian Thinker Nasr Hamid Abu Zayd Passes Away
The Egyptian Thinker Professor Nasr Hamid Abu Zayd passes on Monday, July 5th on 67 years. Professor Abu Zayd is well known by his project of religious text critique through contemporary linguistic methods, and by his conflict with the Islamic traditionalists in Egypt and Kuwait.
5. The Moroccan Thinker Muhammad Abed Aljabri Passes
The Moroccan thinker and philosopher Muhammad Abed Aljabri passes today May 3d 2010 on 75 years. He is well known by his huge production in philosophy, especially his project of 'Critique of the Arabic Reason' in three parts.