Southern California Chronicle: Arab Revolutions Debunk Myth That Only The West Can Handle Democracy

May/June 2011, Pages 52-53
Southern California Chronicle
Arab Revolutions Debunk Myth That Only The West Can Handle Democracy
By Pat and Samir Twair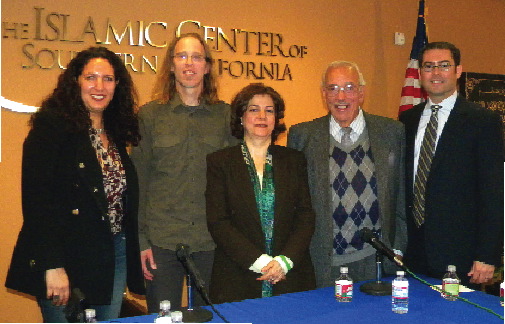 MPAC Forum panelists (l-r) Sarah Eltantawi, Prof. Mark LeVine, Prof. Nayereh Tohidi, Dr. Maher Hathout and moderator Jihad Turk. (Staff photo S. Twair)
Jubilation, exhilaration and enthusiasm were shared Feb. 27 at the Islamic Center of Southern California as more than 400 people of all faiths gathered for a special forum entitled, "The New Middle East: Tunisia, Egypt, Libya and Beyond."
Dr. Maher Hathout, senior adviser to the Muslim Political Affairs Council (MPAC), noted that, in the two past weeks, journalists and acquaintances were asking him, "What's going on?"
"I can tell you what's not going on," said the retired cardiologist, who was forced as a political dissident to flee his native Egypt in the 1960s.
"This is not an uprising—it's a revolution starting from a base.
"This is not a youth movement—youth energized the spark that galvanized all the people: old, poor, professional, men and women.
"This is not a desperate movement to gain higher wages or cheaper food—that would belittle the people who've died—but to achieve respect and freedom.
"This is not a threat to stability—a dictatorship isn't stability—a real revolution establishes stability."
In closing, he emphasized, "The key to any revolution is when the oppressed no longer have fear of tyranny."
Dr. Hathout predicted that the Arab Spring of 2011 will have more far-reaching reverberations than the French Revolution.
Panelist Sarah Eltantawi, a Ph.D. candidate in Islamic studies at Harvard University, expressed concern about the Egyptian army. "The dictatorial attitude remains," she cautioned. "Only yesterday the army destroyed an old Coptic wall on state land."
Prof. Mark LeVine, who teaches modern Middle East history at the University of California Irvine, concurred: "The army wants to be assured of how much money it's going to get. It's not going to give up its power willingly. The military has been made rich by the U.S., and this reality must be dealt with."
LeVine, who also is a musician, author of Heavy Metal Islam, speaks Arabic, Turkish, Hebrew, Italian, French and German, and annually visits the Mideast, went on to say: "In the past, people would never go out to demonstrate—now everyone was in Tahrir. Little 5-year-old girls were leading chants in the square."
Dr. Nayereh Tohidi, who teaches women's studies at California State University Northridge, commented that the popularly held opinion was that Arabs only accept "hard" rule and that Iranians were the trendsetters for revolution in the Middle East.
"We've observed [on TV] the active role of women as agents of change—except in Libya," she said. Regrettably, she noted, there are no women on Egypt's constitution committee.
Moderator Jihad Turk asked how the U.S. might react to the Arab revolutions as a threat to Israel or to petroleum deposits in the region.
"Who's threatening Israel?" Dr. Hathout responded. "Israel already is protected by thousands of nuclear weapons and the U.S. veto in the U.N. What may happen is that Israel can no longer strike out with impunity."
Referring to the unspoken U.S. preference for Arab dictators to maintain stability, Eltantawi said: "The people must make it clear [to Washington], we will no longer live under suppression because of your interests."
As for U.S. interference in the Arab peoples' revolution, Dr. Hathout opined: "Foreign intervention is not wanted. The consequences would be horrific if U.S. troops land in Libya. That's the way all colonial invasions start—they're moving in to 'protect' the civilian populace.'"
Second Look at Arab Spring
"Revolution in the Arab World: What Does the Future Hold?" was the theme of a March 25 luncheon hosted by the Orange County World Affairs Council in the Irvine Marriott Hotel. Dr. Maher Hathout was joined on the panel by Chapman College academics Dr. James Coyle, Dr. Nubar Hovsepian and Dr. Michael Moodian, who was the moderator.
In discussing the political tsunamis roiling the Arab world, Hovesepian said that 2011 may be recalled as the year authoritarianism in the region was defeated.
"The old leaders have been removed in Tunisia and Egypt—the new is yet to be replaced," stated the political science professor. "The regimes in Yemen and Libya have reacted with violence and Saudi Arabia has interfered to stop the pro-democracy demands.
"Washington's relationships with these movements will be questioned," he noted, "and if a wave of anti-Americanism arises it will depend on our actions." Egypt has a slippery road ahead, and calling for speedy elections is a recipe for chaos."
Coyle, who heads global education at Chapman, opined that what all the aforementioned countries have in common is a computer-savvy youth which is aware of what other people enjoy in less authoritarian states. The uprisings aren't a united mass movement, he said, and described what is going on in Libya as a civil war between two tribes.
"What does this mean to the U.S.?" he asked rhetorically. "The system has been good for us over the past 50 years. [Col. Muammar] Qaddafi gave up his nuclear capabilities at our insistence."
According to Dr. Hathout, the people have lost their fear of despotic control, and the energy of the masses has been elevated. The dictators' predictions of civil wars, chaos or Islamist takeovers have been discounted, he said.
Responding to a query during the question-and-answer session about President Barack Obama's doctrine for the region, Hopsevian predicted Obama's strategy will be shaped by the national security prism of whatever is best for U.S. interests—essentially a continuation of old policies.
"I don't believe in doctrines," asserted Dr. Hathout. "A U.S. doctrine should call for the people to be free, to redefine stability, not to continue the status quo.
In response to a question of whether the pro-democracy movement will spread to Saudi Arabia, Hathout said he hopes so, but explained that the situation there is complex: it's not a regime, but a ruling family.
In defense of Saudi Arabia, Coyle said that if the U.S. didn't have access to cheap oil, our way of life would be over.
Dr. Hathout countered: "I thought the U.S. is a model for the rest of the world. The Saudis need to sell their oil to someone, they can't drink it." He called on the Obama administration to establish programs to develop green sources of energy so that we will be less dependent on oil in the next 50 years.
Marcy Winograd for Congress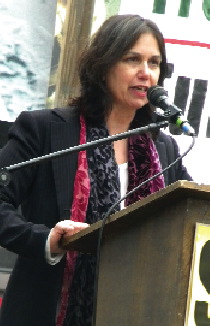 California congressional candidate Marcy Winograd speaks at a March ANSWER anti-war demonstration. (Staff photo S. Twair)
A little more than three months after winning her ninth term representing California's 36th congressional district, Democratic Rep. Jane Harman resigned to head the Woodrow Wilson International Center for Scholars in Washington, DC. In the recent November 2010 election, Harman was challenged by educator Marcy Winograd, who received 41 percent of the vote.
Winograd's ardent supporters immediately asked her to consider running for the soon-to-be vacant seat. She announced her decision Feb. 26 with a kick-off campaign speech at a Torrance drugstore owned by Egyptian-American pharmacist Ahmed Atallah. An outspoken critic of Israel's policies, Winograd is a cofounder of Los Angeles Jews for Peace and calls for the end of U.S. aid to Israel.
Some of the nation's corporate headquarters of aerospace and weapons technology are in her congressional district, but Winograd's platform calls for a transition from a war economy to a green economy based on developing solar cities, mass transit and health clinics.
More than 18 candidates have filed to run for Harman's seat. The best known Democrats in the heavily Democratic district are Los Angles City Councilwoman Janice Hahn and California Secretary of State Debra Bowen, both of whom voiced their attachment to Israel in their candidacy speeches.
The top two votegetters in a May 17 primary election will compete in a July 12 runoff. To learn more about Winograd, visit htpp://winogradforcongress.com/2011.
PIMCO CEO Receives AEO Award
Dr. Mohamed El-Erian was honored with the Egyptian American Organization's Outstanding Achievement Award during a Feb. 13 program at UCLA's Faculty Center. The title of his acceptance speech was "Navigating Change in Today's World."
The occasion coincided with the momentous changes taking place in Egypt, and Dr. El-Erian prefaced his comments by stating that when he left his homeland as a boy in 1968, he never dreamed he would be so proud of Egypt and its people who had nonviolently brought down a dictator.
"The Egyptian people deserve the Nobel Peace Prize," stated the director of PIMCO, a global investment firm with more than $1 trillion in assets under management. The revolution must avoid many traps, he said, but he sensed that the rise of another autocrat, or corruption, will not be tolerated.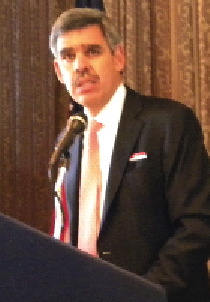 Dr. Mohamed El-Erian. (Staff photo S. Twair)
Dr. El-Erian graduated from Cambridge University and holds a doctorate from Oxford University. Before becoming CEO of PIMCO in 2007, he was president and CEO of Harvard Management Co. He also worked at the International Monetary Fund.
On the road from Tahrir Square to democracy, Dr. El-Erian called for the Egyptian armed forces to lift the emergency law, for constitutional reforms to be enacted, and for fair and free elections to be held. The nation's economy must be reset, he emphasized, and capital flight must be controlled through financial buffers, with reforms to political parties and corporations.
Social grievances must be addressed, he added, along with the efficient provision of basic food, health and shelter needs of the poorest segments of the population.
The program closed with a panel discussion by Dr. Mahmood Ibrahim and Mahmoud Elbayar, moderated by Dr. El-Erian.
---
Pat and Samir Twair are free-lance journalists based in Los Angeles.